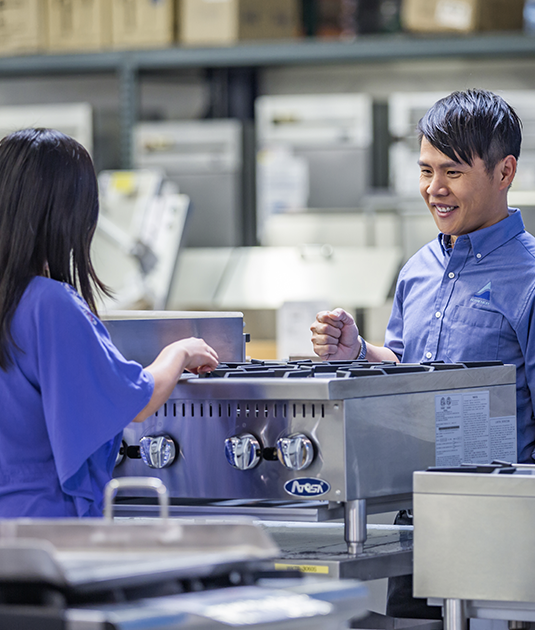 Welcome
About This Store
Since 2008, our store in the City of Industry has been the proud equipment and supply store for thousands of local food service businesses in Southern CA and across the U.S. As part of your community, our warm friendly service, large selection, quality products and convenient shopping experience will exceed your every expectation. When you walk into our store, you are welcomed by our friendly and professional staff members who will treat you right.
Find Us
Location and Hours
17025 Gale Ave., City of Industry, CA 91745
Open Mon-Sat, 9 am – 5:30 pm
Fax: (626) 435-1468
City of Industry Store Reviews
Some Kind Words
Love This Place!
This place is amazing. I have been purchasing all my equipment and supplies here for the past 2 years. Before coming here, I used to go to Chefs' Toys and Star.
Everything from the selection to customer service is top notch. When they don't have what I'm looking for, they source it for me. I also had ordered an equipment which I wasn't familiar using and they came by and showed me how. They also picked up equipment I ordered but decided I couldn't use in my space.
Very Professional!
Let me start by stating that I am a chef and needed a good amount of kitchen equipment for my new restaurant. I had never heard of Action Sale before as I was used to buying from LA companies. Not Orange County.
I met Shawn and he was very helpful. After a few back and forth on price they were able to offer me a better price than competitor prices. Good communication throughout the process. Delivered Equipment 2 days prior to when promised.
Best Customer Service!
Best costumer service ever!!! Workers were everywhere to be found and always more than willing to help! Extremely informative about the products, welcoming and genuinely nice people!
No more Restaurant Depot for supplies and equipment, I'm coming here!!! Thanks guys for helping me out to my car, you guys are the best!!! I'm impressed and extremely thankful for by far the best costumer service I've ever received from one of these places!